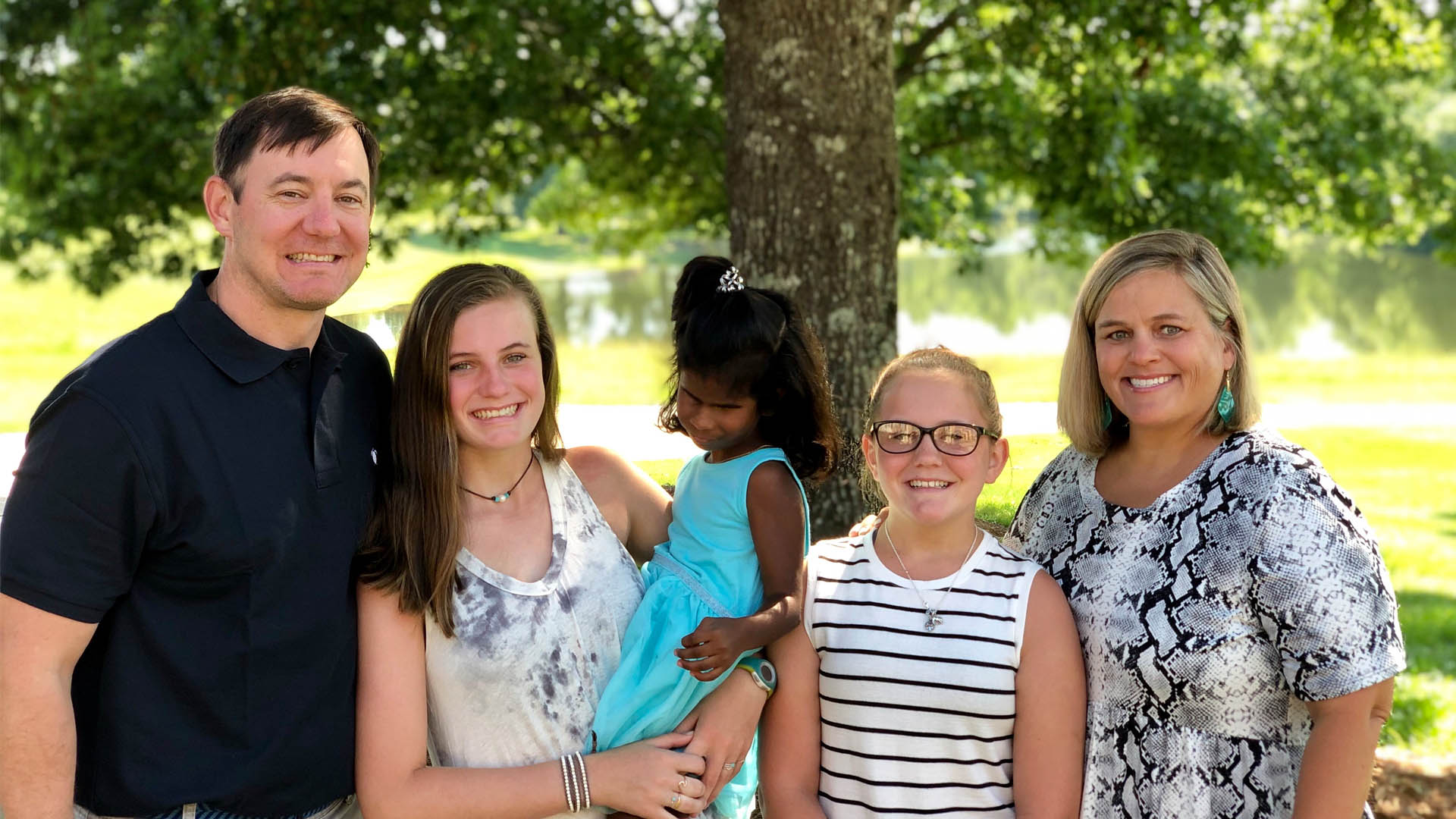 Meet Our Missions Director
FEBRUARY
---
By: Jacob Baker
To begin, my family is so excited to be back with our church family at 3Circle, and I am honored to be able to serve here as your Missions Director. I want to use this blog to reintroduce myself and briefly share about missions here at 3Circle. My wife, Cynthia, and I, along with our two daughters, Maddie and Myra, moved to Fairhope in 2008 after living in our hometown of Columbus, GA. We quickly fell in love with the area and the people here, and soon started attending and getting involved with 3Circle Church. God used 3Circle Church in some big ways to help us grow our faith and provided ways that we could get involved to serve people. We enjoyed growing with our church family, through small groups and serving alongside others through mission trips to Honduras, Guatemala, Ukraine, and Tanzania.
In 2012, God started showing us that He wanted us to serve full time overseas. He had put helping children in need on our hearts. With this calling, we first traveled to Honduras for 16 months to serve and learn at an established children's home, Give Hope 2 Kids. While in Honduras, we served among the Honduran and American staff. We learned about family-based foster care, and we enjoyed the beauty of the Honduran jungles and the kindness of the local people. When we finished our time there, God called us to Hyderabad, India in 2015. We felt we were supposed to be there. We also knew that God had put a desire to work with children on our hearts, but we didn't know what it would quite look like. Within 3 months, God had opened doors for us to partner with, and serve alongside Sarah's Covenant Homes, a children's home for previously abandoned children with disabilities and medical needs. We were able to serve at the home in different roles, until we were asked to step in as Directors in 2018. Serving alongside the local staff, American volunteers, and some amazing kids/young adults, was one of the biggest privileges of our lives. Along the way, our family grew when a beautiful and hilarious 4-year-old, Kayla, joined our family through adoption. This past summer in 2019, God slowly started showing us that our time was coming to an end in India, and He would be bringing us back here. Then, the Indian government informed us that our visas would no longer be extended, so we started making plans to move back.
As we were preparing to move back, I had the opportunity to speak with the church leadership about coming on staff to serve as your Missions Director. I am thrilled to be back with you serving in that capacity. To be here, while serving alongside great leaders, and having the opportunity to make an impact, is truly an honor.
We could not have been able to do all we've done over the past seven years without the incredible support of our church family here at 3Circle. Your prayers, encouragement, and financial support allowed us to follow God faithfully and serve Him over the years. We are so thankful for all of you, and I truly hope you know that.
Over the years, we have been able to see God do big things not only in our hearts, but in the hearts of so many families serving each other so well. We have seen others also move into Global missions in places such as Guatemala, Ukraine, Uganda, and Clarkston, GA. We have seen so many get involved adoption and foster care, and have heard some amazing stories of children being reconciled with their birth mothers, children being placed into their forever families, families helping each other as they look to meet the needs of so many children that are in a broken system. We have been able to watch from afar as our church has been strongly invested in feeding people in need. This happens through local missions on the Eastern Shore through serving at Prodisee Pantry regularly, and as you partner with them by purchasing hundreds of turkeys and hams during Thanksgiving. Across the bay in Midtown, we are serving weekly donation-based meals on Wednesday's. And you support Global partners in India, Honduras, Guatemala, and Costa Rica. Additionally, we have seen the Hope Center grow so much from its beginnings, and then, watched as the Hope Center also went Global, having such a big impact in Lizapa, Honduras through medical and dental camps. We have watched and read about churches being planted in Costa Rica and Las Vegas, and how God is using 3Circle is big ways in those churches.
God has done some truly extraordinary things over the years, and my family is ecstatic to be back alongside you to take part and to watch God grow our church to an even greater missional impact in the years to come. One of my goals is to help share God's story through missions in our church. We want you to know what all is going on. There are so many reasons for this. First and foremost, we want to give the glory and credit where it is due, to Him. To our Redeemer and our Savior, the One who is, the One who was, and the One who ever will be, Jesus. We give Him all the credit. We hope the stories you hear about and the things you see, will encourage you in your walk with Christ. We hope you realize, that God is doing some great things through all of us, not just the pastors on stage, not just some certain leaders, but that God wants to and can use all of us in His Mission in redeeming the world. As you know, 3Circle is all about Acts 1:8, "But you will receive power when the Holy Spirit has come upon you, and you will be my witnesses in Jerusalem and in all Judea and Samaria, and to the end of the earth." This verse isn't just for a select few, this is for all of us who believe Jesus is who He says He is. We want this verse to be true for all of you. God can and will use all of you. We respond in mission because of who He is. When we know His love and experience His love and grace, we are transformed into a new creation by His Spirit, to be used in His Kingdom work for HIs Glory. I am truly excited to be a part of this with you.
I look forward to how God is going to continue to grow this mission movement here at 3Circle. I look forward to how God is going to continue to use so many of you to serve children in need, locally here through foster care and adoption, but also globally through our partners serving children overseas, and possibly even with adoption. I look forward to hearing stories of families knowing that our church supports, encourages, and listens to parents going through foster care. I can't wait to see the day when more churches are being planted through the body of believers here, when more people go out and share the message of salvation with people in their communities, and when we see salvation in the lives of many taking place. We are excited about seeing every member passionately sharing the message of Jesus and serving people locally, regionally and globally.
Would you take this journey with us?
God Bless!
Jacob Baker
Feel free to reach out at anytime!
jacob@3circlechurch.com
---
Subscribe for blog updates
Stay connected with 3Circle's mission updates!